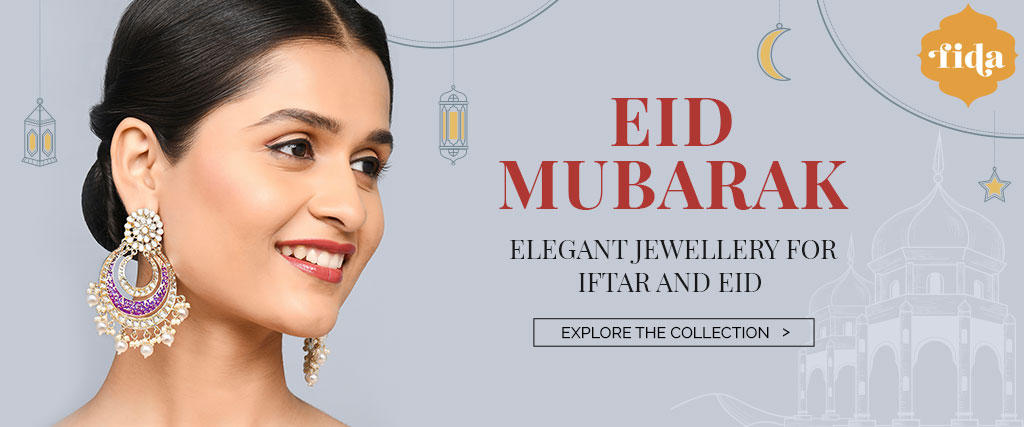 Celebrate Ramadan and Eid with Our Special Jewellery Edit
Are you looking for ideas about what jewellery to wear on Eid day? Wondering how to accessorize you Eid outfit with different jewellery? Then read on.
Ramadan brings with it plenty of occasions to spend more time with near and dear ones. And, with everyone wanting to look their best during the Holy Month, jewellery is a sure-shot way to elevate a look, while still being respectful of our traditions Luckily, there are a number of Jewellery styles our Editorial team has picked for you to choose from this Holy Month from our Traditional Brand Fida on how you that you can match your outfit for Iftar or on eid day
This season our CEO Sonali believes that, just as Ramadan warrants a different style of dressing, one should also adapt their jewellery style to suit the occasion. Crescent moon designs, accessories with gemstones and beads in green and Islamic patterns will always be popular during the Holy Month. It's also important for look for patterns and shapes that are elegant and sophisticated' she added. Our team has created a stunning collection of Eid Jewellery that is perfect for the festive season and also makes gorgeous Eidi Gifts as well
American Diamond Jewellery
If you prefer to wear something delicate and classic, then there is nothing better than our collection of high shine American Diamond Jewellery. Chose from stunning diamond jewellery sets to stunning chandeliers that are sure to make heads turn at your celebrations.
Shop the Collection here
Kundan and Polki
If you are more classic and prefer a traditional look this Eid, then we suggest our Kundan Collection in stunning motifs that can make a statement. These kundan jewellery pieces are attention grabbing and would love stunning on a pastel color attire. Choose from Jewellery sets or large kundan Chand Bali.
Shop Kundan Collection here
Maang Tikkas
A Maang Tikka has always been the perfect final addition to your ethnic ensemble. We suggest wear a maang tikka for Eid this season for a perfect complement to your look this festive season.
Shop Maang Tikkas Collection here
Some Other Tips for Choosing Your Eid Jewellery
Before picking up your jewellery keep your face cut and outfit's neck design in consideration.
The trick to remember is that never overdo the jewellery.
With heavy makeup and dress keep the jewellery as simple as possible.
With a simple attire carry heavy or blingy jewellery to add life to your appearance.
If you are wearing a necklace, then don't wear oversized earrings to maintain a balance.
Don't wear too many rings at the same time and if you still want to then give mid rings a try.
For Eid functions especially dinners, wear bold jewellery as night time is best for glamour.
Be yourself and don't wear jewellery that you can cannot carry.
Shop Our Eid Collection here
From our entire team, here's Wishing You a Blessed Eid
Tags
Eid Jewellery, Eid Gifs, Eidi Gifts, jewellery for Iftar